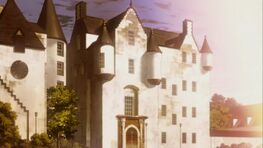 The Twilight Mansion is first introduced in Story 008 and is located in Shinjuku, Tokyo. It is the current residence of Yuki, Luka, the Zweilt and a few others.
As is with all the Giou residences, barriers have been raised on these grounds, so normal humans cannot enter, nor does it appear on any maps.
Infirmary
Separate wing where the Zweilt reside.
Common Room
Yuuzuki's room.
Known Residents
Edit
Yuki Giou
Luke Crosszeria