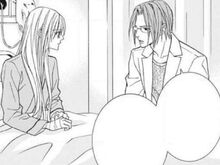 "I'm sorry for the late introduction, Yuki-sama. My name is Shizuka Usui."
Shizuka Usui is one of the 'masters' who taught the
Zweilts
. He is the teacher of Tsukumo and Touko Murasame. He is the elder cousin of Shuusei and notable looks quite like him. He first appears in story 48.