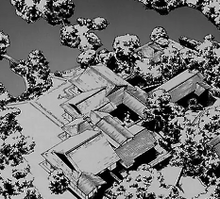 "
What an enormous mansion...It's so old and imposing.
"
The
Main Residence
of the
Giou Clan
is located in Kyoto and is a traditional Japanese manor. The Main residence is currently taken care of by the
Shikibe
family, on behalf of the Ten Divine Houses.
As is with all the Giou residences, barriers have been raised on these grounds, so normal humans cannot enter, nor does it appear on any maps.
As it is the main residence of the Giou, Duras are not allowed in willingly or unwillingly, which means that Luka is also unable to enter. However, this backfires greatly, as not only do Duras enter but they attack the residence under Suzaku's influence.